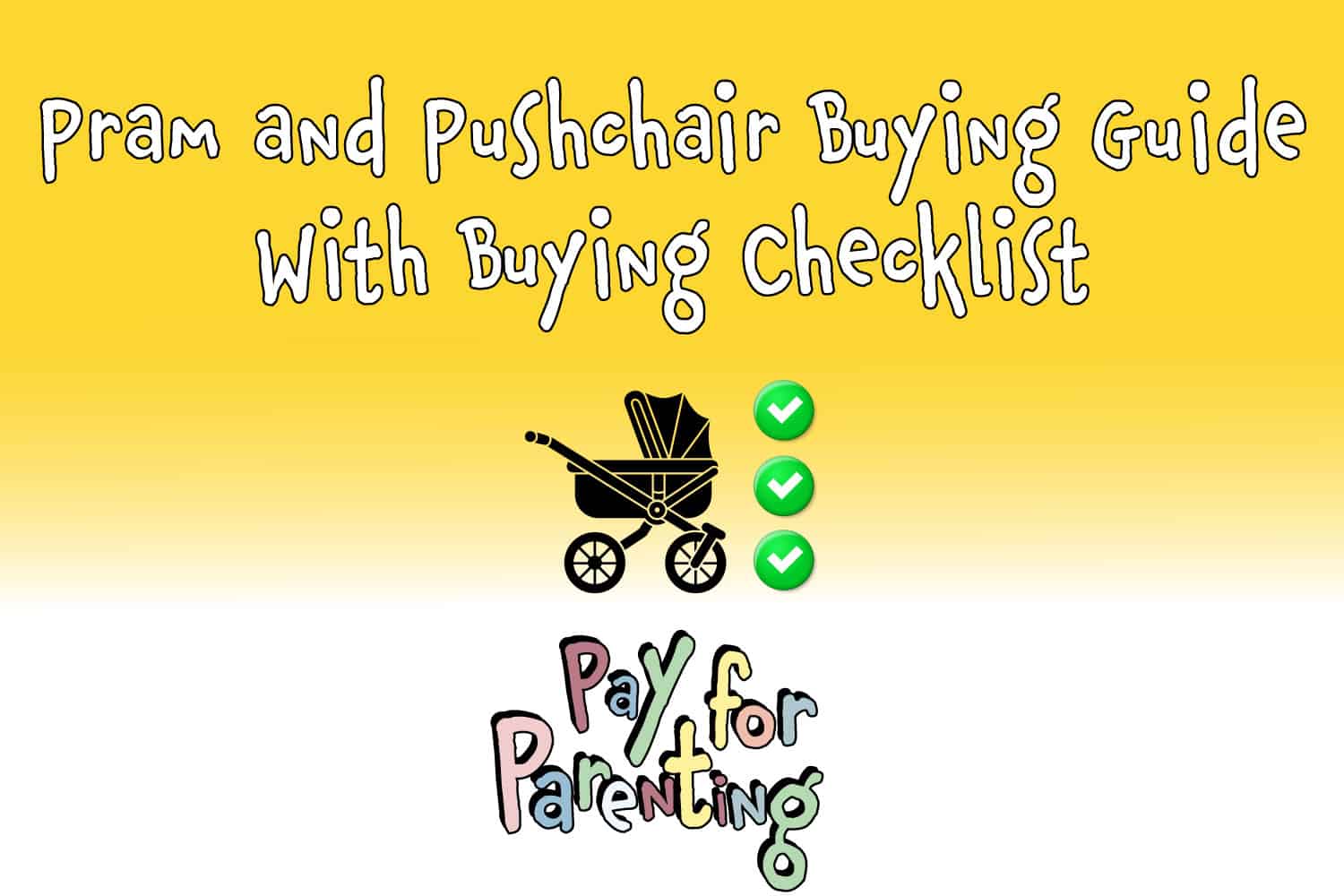 Your Pram and Pushchair Buying Guide!
You need to get your pram purchase right!
Imagine you spent £500 or £800 on a pram and hated it. Imagine you couldn't take it back. 
Sure, you could sell it and buy a new one. This would be a bit of a nightmare though and you'd be without a pram for a while. 
Do you think you know a pram from a pushchair from a buggy? Do you need a forward-facing seat or rear-facing? What size pram will fit in your car? You need to know the answers to these questions before you're ready to buy!
A pram is one of the largest baby buys you're going to make. Read our Pram and Pushchair Buying Guide and use our downloadable and printable checklist to make sure you buy the right pram for your family!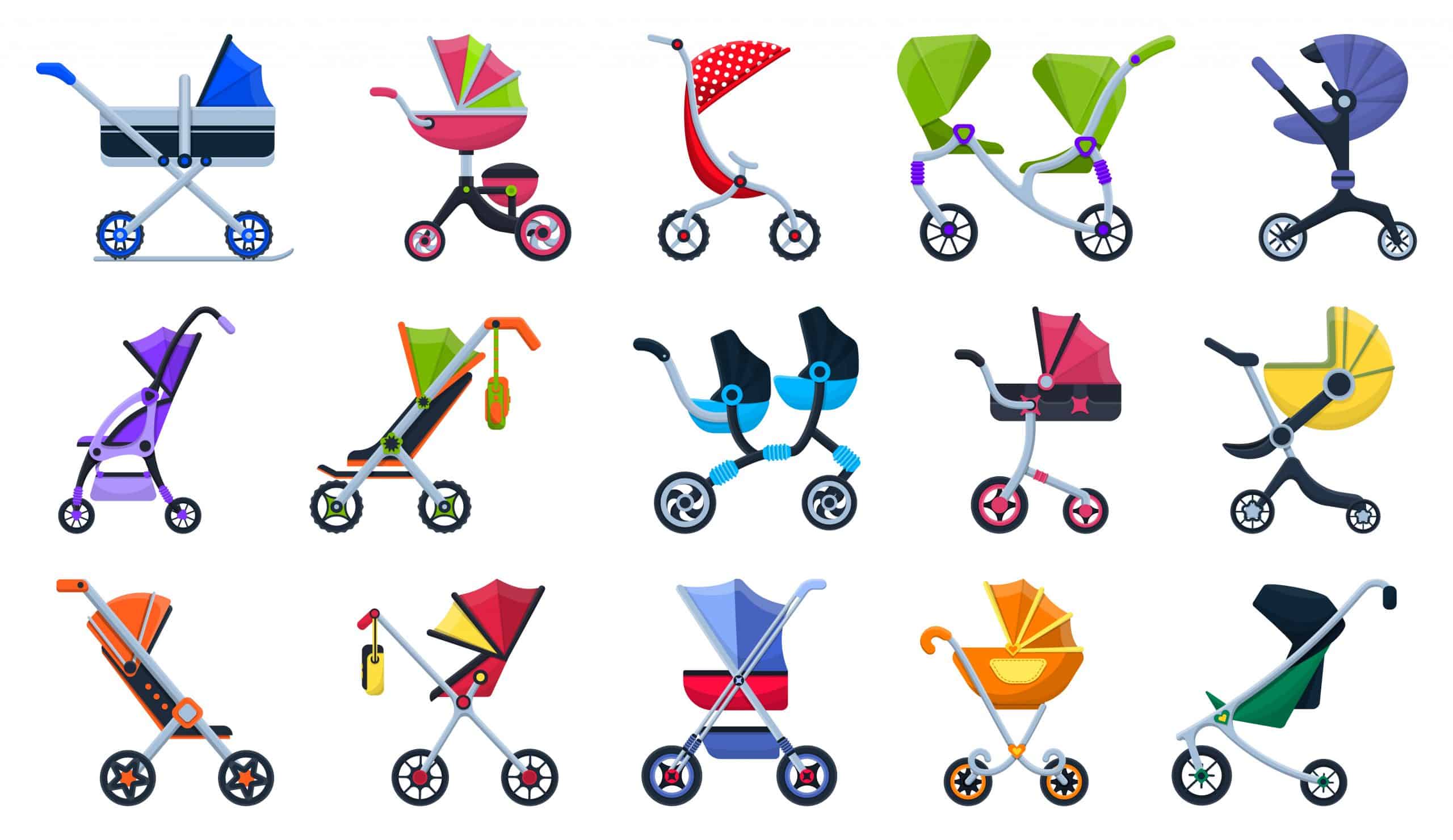 Why

you

need this Pram and Pushchair Buying Guide
My goal with this guide is to make the process of choosing your baby's pram or pushchair a much clearer and straight forward process. This guide will take you through the following:
Why you need to get your pram purchase right
The differences between each type of pram or pushchair
What you need to consider when buying a pram or pushchair
My recommended pram and pushchair features
My pram and pushchair buying tips
Our Downloadable Pram and Pushchair Buying Checklist
What's the difference between a pram and a pushchair?
There are many different types of contraption or vehicle in which your baby can be pushed around and transported. 
There are prams, pushchairs, buggies, strollers, travel system (buggy + car seat), lightweight pushchairs, ATP (all terrain pushchairs), twin pushchairs, joggers, tandem pushchairs just to name a few. 
Many people use the terms interchangeably but it is important to know the difference before you buy one so you get a set-up which matches your needs. 
Parent facing, so you can see your baby at all times

Lie your baby flat, which they should generally be doing before the age of 6 months

Traditional look

Usually have some storage space on the bottom and at the sides

Classic prams usually don't fold up. This means they can take up a lot of room when they're not in use. Some larger prams might be difficult to fit on public transport. If they don't fold they won't fit in your car either. You'll need a pushchair or travel system for that.

For babies of a variety of ages, usually up to 2

The seat part must lie flat if they're to be used by babies under 6 months

More convertible, foldable and easier to manoeuvre. Can fold up in the car. 

Can be parent facing or forward facing, and some can be both

Also usually have some storage at the bottom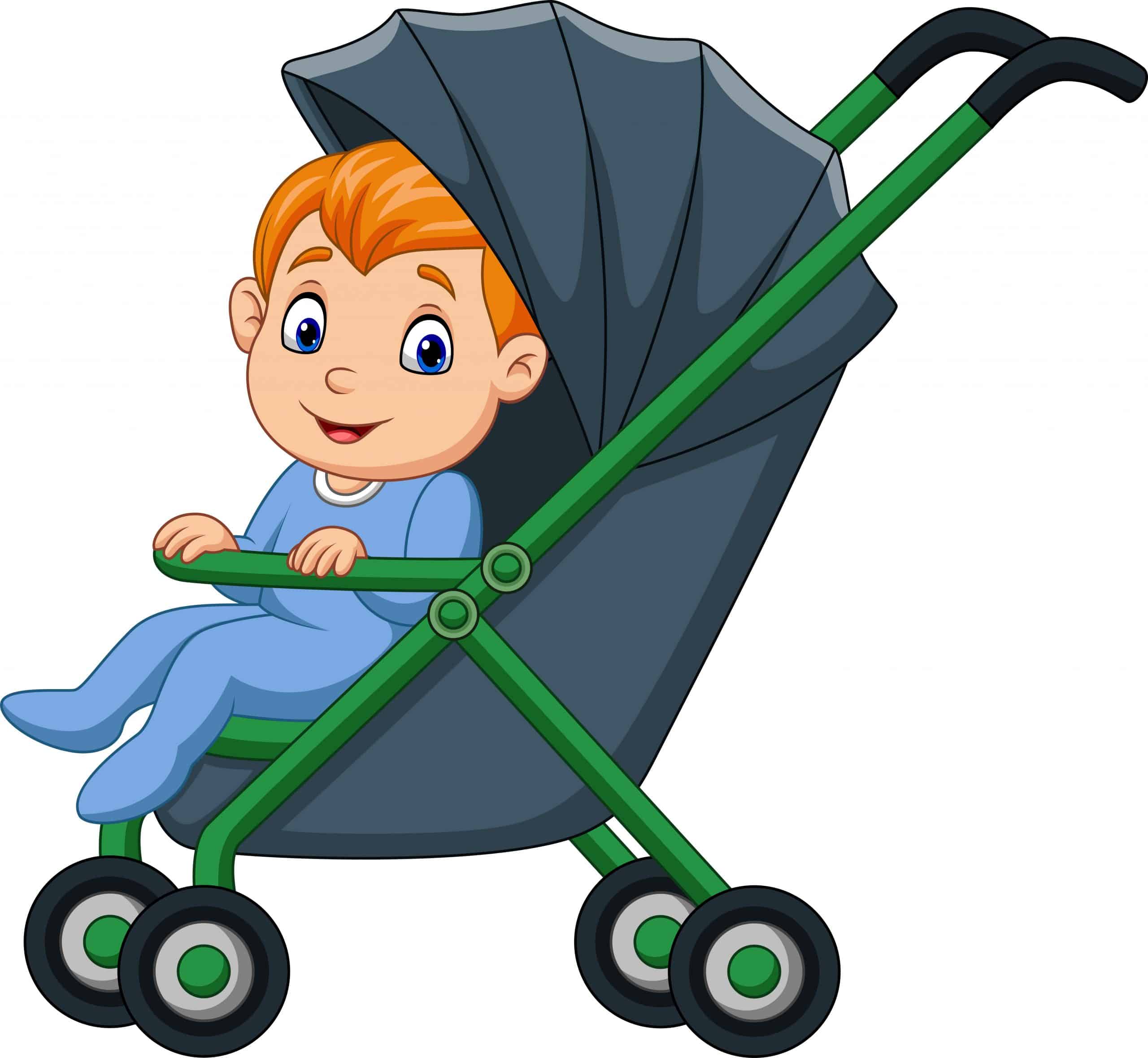 Combinations of prams/pushchairs/carry cots and car seats

Multiple features in one

Can last your baby from the newborn period into being a toddler

Good value considering how much each part would be separately 

Can be accessorised and come with lots of attachments

For babies over 6 months

Much cheaper than a pram

Like a lightweight pushchair 

They should be easy to fold, lift and carry

They can often be folded down to a size where you can easily carry them around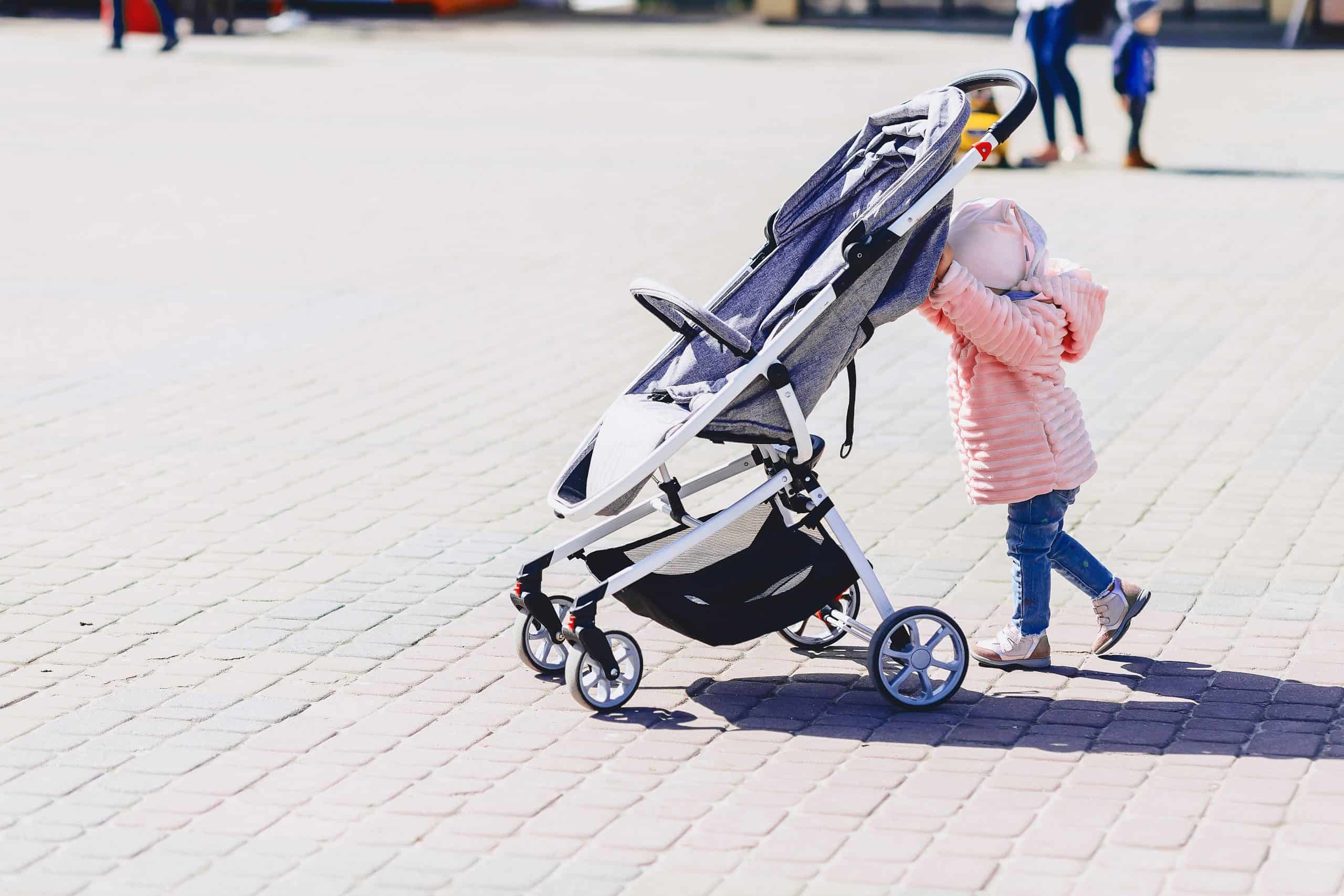 You can buy twin versions of prams and pushchairs when you have two babies of the same age with the same needs. Obviously these prams and pushchairs suit twins. Sometimes if you have two children very close in age these systems can suit your needs well too.

If they come in pram version, or have reclining or adjustable seats they can be suitable for babies under 6 months. 

They can be bulkier and less compact. This may affect how well they'd fit in your car. They're also likely to be heavier.
These are like twin models but have one seat in front of another. 

Also may be heavier and bulkier, and will take up more storage/car space

Some tandem models will allow flat pram seats and inclined seats to be interchanged and also turned around from rear to forward facing and vice versa.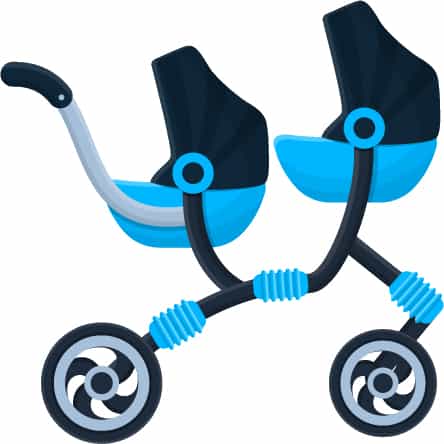 ATPs (All terrain pushchairs)
Most are 3 or 4 wheelers

Can accommodate flat pram seats and inclined pushchair seats

For parents who want to take their children 'off road' or on long walks. 

Have larger thicker wheels for less bouncing and a smoother ride for baby on uneven ground

Can be heavy but many are made of lightweight materials that minimise weight

Should have decent storage options

ATPs are often very agile and the 3 wheelers have a large range of movement in their front wheels, making them usually easy to steer. 

They should be able to accommodate attachments you'd need for a long walk in the countryside such as a rain cover or sun visor.
These are like ATPs for parents who want to take their baby out for a run, jog, or anything more than a fast stroll. 

You can buy flat pram seated jogging pushchairs but the general advice is that babies under 6 months wouldn't normally be taken out running. 

These pushchairs tend to have very good brakes and often have an extra handbrake for added control. 

You can fix the front wheel to stop it steering all over the place when you're running. You can then un-fix it for maneuverability again. 

They may have other safety features such as wrist straps so you don't leave go of it as you run.

They have big tyres to ensure a smooth ride for baby.
What do you need to consider when buying your pram?
You need a pram and a pushchair that fit the needs of your family.
You need to know what the needs of your family are. You probably have a good idea about this but pleasse read on to see if you can answer all these questions.
One thing I have not covered in this buying guide is anything about the colour, material or design of the prams and pushchairs. I believe as long as the material is durable and you trust the brand then the features described below are the more important things and you can choose brands and colours that you love the look of! 
Where are you going to use your pram?
When deciding on a pram or pushchair you need to think of your own needs as well as those of your baby. Where will you be using it? 
Ask yourself these questions:
Will I be pushing baby around town, on a footpath, on a beach, on grass?

Will I take my pram or pushchair on holiday?

Will I have to lift it upstairs frequently?

Will I be taking it on public transport? (this is harder with bigger units such as large prams or twin/tandem models, but it can be done). 

How important is the amount of on-pram storage?
Do I need to keep changing the pram or pushchair as my baby gets older?
It would definitely be easier and less hassle to use the same baby carrying vehicle from birth until they don't need pushing around anymore. 
For this to be feasible, the equipment you buy has to accommodate the needs of your baby at different ages. 
In the newborn period it needs to have a flat cot unit for baby to lie on. The general consensus is that that babies under 6 months should be transported laid flat for safety reasons. 
You're probably going to want to be able to see them as you push them too and they're going to be more interested in the face of their parent than the outside world. You'll therefore want your pram cot or carry cot to be rear facing (parent facing). This will change when they get a bit older and become more curious about their surroundings. 
The ability to change the cot position (or the cot itself) is therefore very important if you want to use the same equipment throughout the early years of your baby's life. 
What's the ideal weight for a pram?
It's easy to say the lighter the better but some very light prams do feel a little flimsy to me. You don't want it to blow away in the wind! The ideal weight depends on you. It depends on your size and strength and what you intend to be doing with the pram. 
Do you have stairs to lift it up? This is a big consideration if you have stairs up to the front of your house or flat. If you're on your own, you'll need to be able to easily move the pram around. You can get a handle on what the maximum weight you'd like it to be. Go to one of the pram shops and try lifting, folding and pushing a few of the prams. Go for a light one, a heavy one and an average one, and note down their weights. Then you can decide what's right for you.
Will my pram or pushchair fit in my car? IMPORTANT!
How big is the boot of your car? It would be a disaster if it didn't fit. This one is so important. So much so that it you get it wrong, you'll probably have to look for a new pram (or a new car)! 
Have a look at the folded dimensions of your pram online, the shops should have that information too. Then look at the capacity of your car boot and compare. You should be able to look this up if you know the make and model of your car.  Make sure you're comparing width with width and length with length (and then don't forget height). You might have to put the seats down if you have a small car but you can only do this if you don't have other kids in the back. 
The shops may allow you to try the folded pram in your car before purchasing it, though they may send someone out with you to check you don't just drive away with it!
Extra Tip
Make sure you measure not just from the widest points in your car boot but the narrowest. There are corners in my car where it is wider, but this width doesn't extend for the whole side of the car boot space. For example, there are areas of my car boot that are 94cm wide, though I would only be able to get an item in there a maximum of 91cm wide given 91cm is the narrowest point.
Please excuse the mess and dust in the car boot photo. I'd just taken out my golf stuff to measure it to make sure our pushchair would fit inside!
James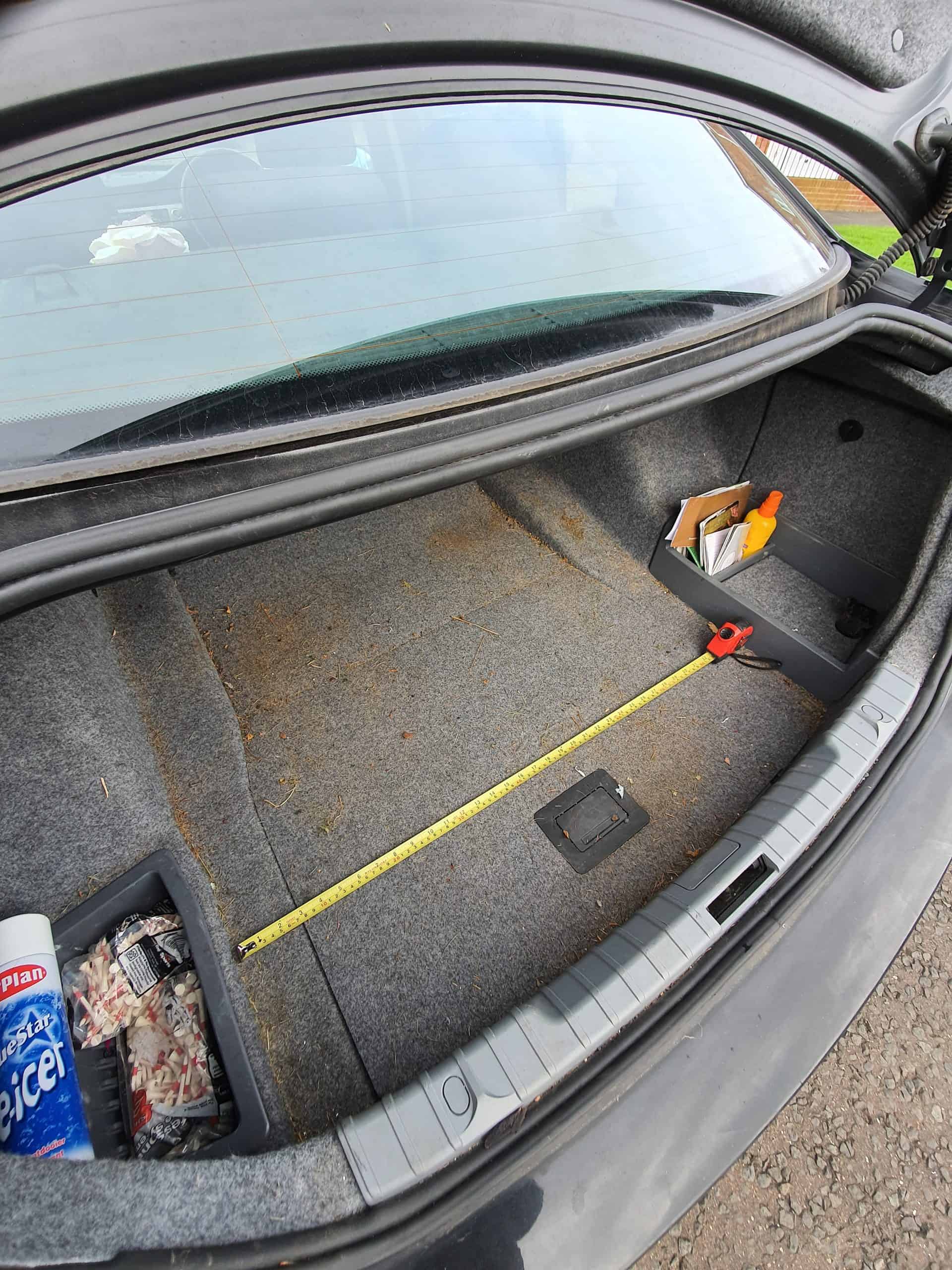 How easy does the pushchair fold? Try it or watch someone else do it!
I would highly recommend watching video reviews of the prams you're seriously considering. I watched pram unboxing videos, reviews, reviews after 3 months of use and lots more before buying our pram. This will give you the harder to imagine information such as how easily the pram folds and whether there are any issues other parents have found after purchasing the pram. 
You can then use the information gained from these resources to complete your checklist below.
Where are you planning to store your pram?
Everyone loves a tidy house free from clutter. Do you know where you'll store your pram? Is it going to live in the living room taking up loads of space? Does the pram you're looking at have lots of large attachments? Do you have a place to put it at the back door? 
If you buy a pram that folds up you can keep it tidied away when you're not using it. 
Some parents who live in small flats or houses keep their prams folded in the car, though this risks becoming a faff when you have to get it out and unfold it with every use. None of these issues should be a huge problem but they're just things to consider when you buy your pram. 
Will my pram last until my next baby?
You also want your pram to be durable so you can use it for your next baby or sell it on. Looking at reviews on websites like www.amazon.co.uk and video reviews on Youtube are the best way I've found to get user experience for durability.
My Recommended Pram and Pushchair Features
Adjustable handles are essential if you and your partner are different heights to avoid one of you getting a bad back. 
This is something I never considered until I started pushing prams around in the shop and realised the handles were at a good height for someone about 5ft 1. Make sure your intended pram or pushchair is fully adjustable! 
Reversible Seat if buying a pushchair
Big one piece prams are usually fixed in the parent facing position. However once you buy a pushchair, stroller or travel system most parents want some versatility. 
Baby will want to see what the outside world has to offer for most of the day. Later on in the day he or she will be tired and might do better facing their Mum or Dad for a snooze. Easily adjustable seats are a must on an everyday pushchair or stroller. 
Is it easy to walk behind?
This is another question I never considered until I went to look at prams. I was walking behind one large pram and kept catching my foot on the inner part of the wheel, forcing me to take shorter steps than normal. 
Go out and test it in the shops. Can you walk behind it properly or do the rear bars bang into your legs with your normal stride? This probably won't be an issue for most parents but it would be really annoying. 
Watch someone else try and fold it – does it look easy?
We've covered this above but it's so important. 
When you've identified the pram you intend to buy, watch reviews of it on YouTube. Watch other people fold it up and open it out again. Is it easy to do? Oh and have I mentioned it MUST it in your car?
If your pram or pushchair is difficult to fold up then you'll get frustrated by it very quickly. 
Large, easy to use brake pedals
You want a pram that is easy to manoeuvre and easy to stop and start. If you have to fiddle around looking for the brakes and then they don't work properly it will become frustrating pretty quickly! 
Big break pedals are a big plus on Jogger Prams too!
Would a close family member contribute towards your pram?
Not everyone has a generous grandparent-to-be who wants to contribute financially to the upbringing of the new arrival in the family. If you do have parents of your own who may help, ask them up front about it. That way you'll all know where you stand. Prams work well as a 'big gift' as they're nice large items that baby will use very frequently and will hopefully be passed down the family to the next baby. 
A pram can be an expensive purchase, more than pushchair or stroller. They may be able to help you buy a less expensive item if they can't afford to buy you a lovely shiny pram.
A pram is an expensive item to ask for at a baby shower. However if you have already made your pram purchase you can always add pram accessories to your baby shower wish list. You may have bought the pram but you still need a car seat. I searched 'pram accessories' on Amazon or Google and found loads of items that I added to our amazon wishlist. You could add them to a baby shower wish list too!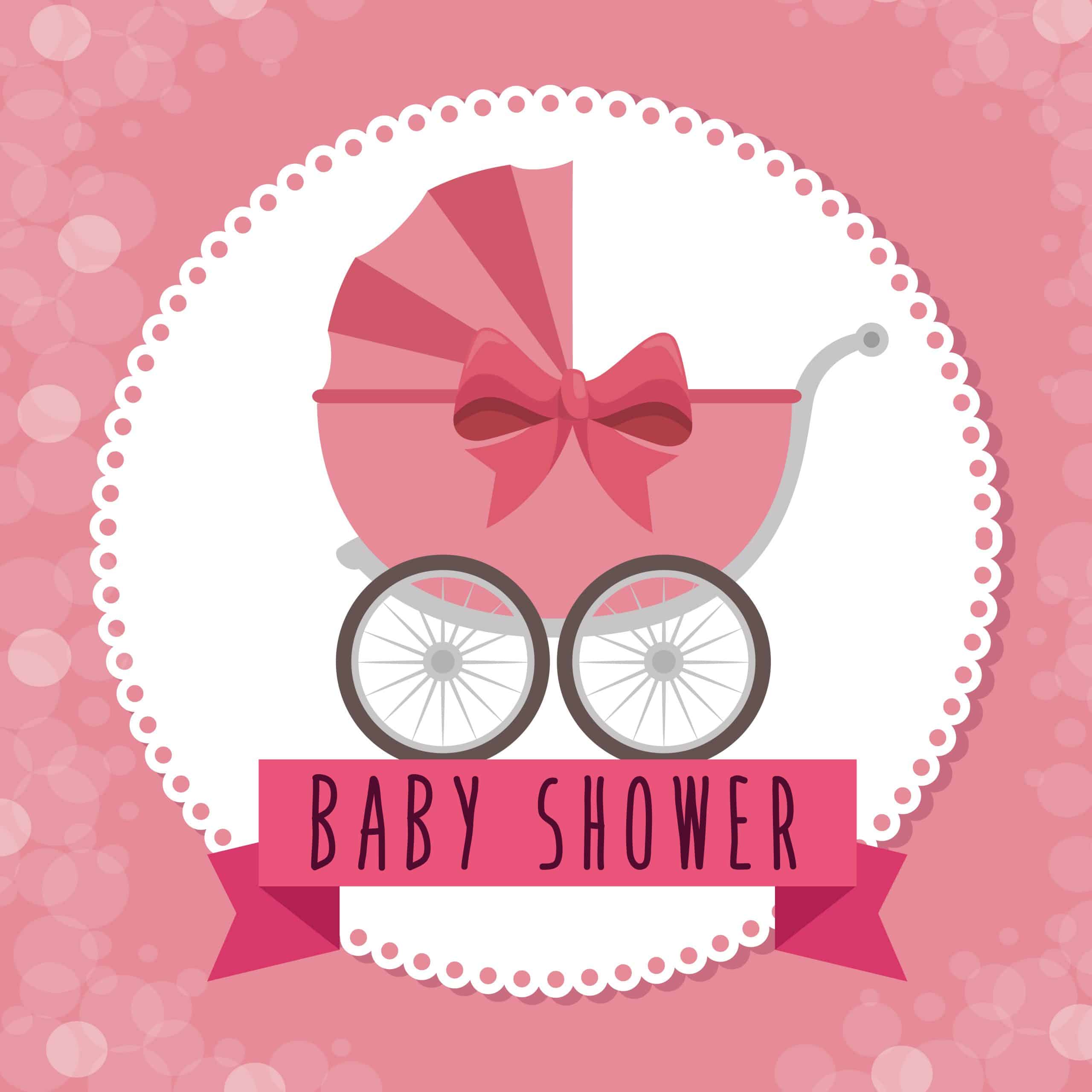 Could you inherit a pram from a sibling, friend or other family member?
Of course a pram is an exciting purchase to make. It's also a lot of money that could go towards everyday baby expenses, fortifying the emergency fund or even into baby's savings account.
If you have an older sibling who has completed their family, it's worth asking them whether you could inherit their pram. Maybe you could give them a small amount of money for it. Maybe a donation to their children's savings accounts.
Try it in the shops, then it's usually cheaper to buy online!
We tried lots of prams out in the shops. I consistently found the prices to be better online however. That's not to say you might find a good deal in one of the sales, but make sure you know the best available price online before you think about taking it to the till.
Watch Youtube reviews and read Amazon reviews
Unboxings. Reviews. Watching someone fold it and get it in the car. Watching someone get it up and down the stairs. Seeing how much space it takes up. Seeing another parent's thoughts on your intended pram after a month's use. All invaluable information.
You should also read the reviews on amazon or other sites thoroughly. Remember that you're unlikely to find a pram or pushchair with universal perfect reviews. Make sure the nuances and problems that are raised are fairly minor and not things that would really get on your nerves.
I've already stated this earlier in this post but this is a must. You can look up the official dimensions of your car boot on the manufacturer's website though I found I was happier when I measured it myself.
Is last season's perfectly amazing pram cheaper than the just-released prams?
Make sure you don't automatically get sold on the very latest trendy pram advertised on the big baby websites. The technology in prams isn't like mobile phones. Last year's pram will be very similar to this year's pram. Just find a pram or pushchair whose design you like and then examine all the features as above. Make sure the price is comparable with similar prams and pushchairs and be wary of prams that have just been released. 
Download our Pram and Pushchair Buying Checklist!
You can download this checklist as a pdf by clicking on it. Print it out and write down your 4 favourite prams or pushchairs that you've been researching. Then you can fill out the boxes to give you a clearer picture of which pram, pushchair or other unit is best for you and your baby. 
There's a spare row at the bottom which you can use for anything else. 
Good luck! Thanks for reading this post! I'd be really grateful if you'd share it with your friends!

[et_pb_df_faq display_title="on" title_text="Pram and Pushchair Buying Guide FAQs – Commonly googled questions" filter_by_category_on="on" include_categories="44″ order="ASC" accordion_bg_color_closed="#eef7fd" accordion_bg_color_open="rgba(252,241,156,0.49)" accordion_icon_color="#cccccc" accordion_icon_color_open="#fcf19c" main_title_padding="0|0|0px|0″ _builder_version="3.21.4″ main_title_font="||||||||" main_title_text_shadow_style="preset1″ category_title_font="||||||||" category_title_text_color="#ffffff" question_font="||||||||" question_font_size="15px" answer_font="Lena||||||||" background_color="#fcf19c" custom_margin="0px|0px||0px" custom_padding="0px|0px||0px" question_text_align="center" main_title_margin="0|0|30px|0″][/et_pb_df_faq]